Collapsible content
SUSTAINABILITY

Our fabrics carry the V-Label. It is a registered and internationally recognized symbol for the labeling of vegan and vegetarian products and services. For consumers, it is a simple and reliable guide to help them when they are shopping. With V-Label, companies promote transparency and clarity. Standardized criteria ensure that the V-Label is a unique quality seal for vegan and vegetarian products throughout Europe.
LOCAL MANUFACTURE

Our workshops are in Barcelona or its surroundings and we work with European fabrics, producing locally guarantees a lower carbon footprint and daily visits to the manufacturing facilities by the team to guarantee the best working conditions as well as the certainty of being able to offer the highest quality. possible.
FABRIC QUALITY

Our main fabric is cupro, a material of Japanese origin made from cotton or cellulose waste. In addition to being breathable, it is a regulator of body temperature. It is a very soft and pleasant fiber that is easy to like due to its adaptation to the body and the sweetness it transmits.
CREATE YOUR DESIGN

In addition to being able to customize our ready-made models and make them in any length and color, we also have the option of creating your design from scratch. How does it work?

1- We meet with the client in our store

2- You show us an inspirational folder with various styles and ideas.

3- We create a design from this inspirational folder

4- Decide the color and fabric that you like the most

5- We take measures

6- Done! In a few weeks you have your dress.

*We will start this process as long as what you want fits our style.
PRE-ORDER

We produce all the models on request, making each dress one by one for each of you. In this way we make sure not to overproduce in order to help and contribute as much as possible to reduce the environmental impact.

Overproduction in the textile world is currently an overflowing topic in the fashion industry. It is unknown how much is the accumulation of dead stocks that arise each year but it is estimated that 10% of what large companies produce is not sold. This implies unnecessary tissue waste and environmental impacts.

Because we use this method, we know exactly how many garments we need to produce to avoid all these impacts.

Help us reduce our environmental impact by shopping consciously on demand.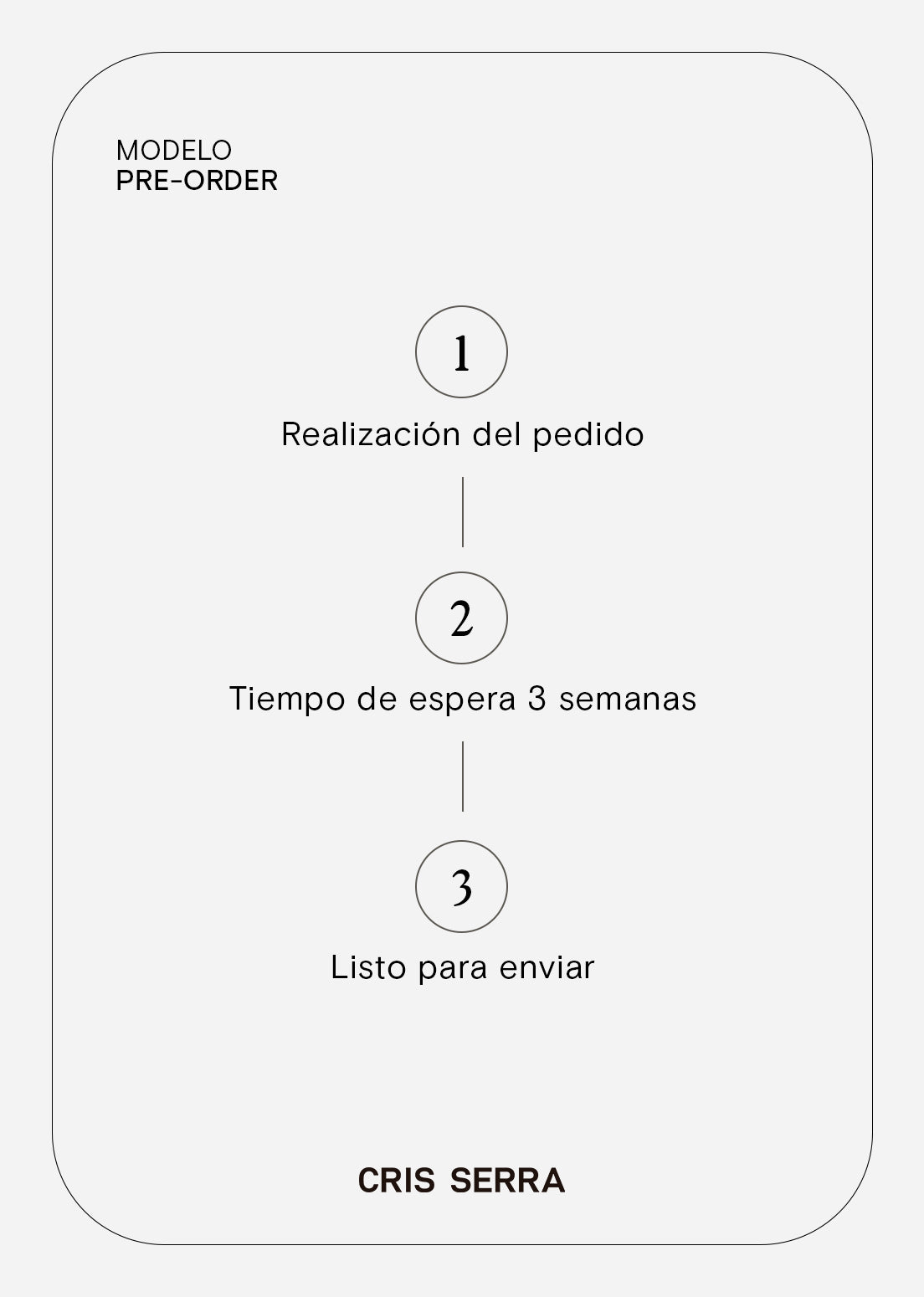 HOW DOES THIS MODEL WORK?
Physical: You come to the showroom and choose which model and in what color you want that model. You have to make a down payment of half the total amount. We make the model you have chosen and in 15-20 business days we have it done. We contact you to deliver the dress. In case of any arrangement, it enters within the price. Payment of the other half is made and delivered.
Online: You make the purchase, we contact you to learn a little more about you, we send you a video tutorial on how to measure yourself and in 15-20 business days it arrives at your home. The arrangements are not included in the price.
DISCOVER OUR PRODUCTS